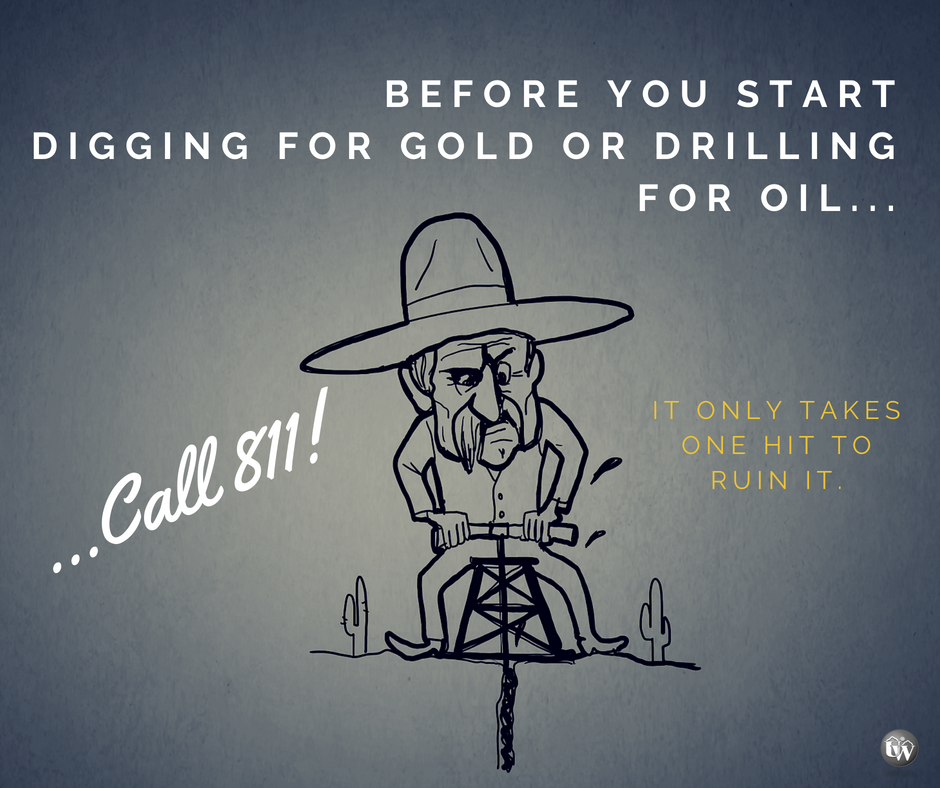 What is 811? This number was established in 2007 as a nationwide designated hotline providing homeowners and professionals a designated phone number to call before beginning any excavation. Any entity within the state that owns/operates any underground facilities (with a few exceptions) is required to register their facility's location and company contact information with the notification center.


Before Excavation…
When a person is involved in any activity that will move or otherwise displace earth, rock or other material on or below the ground by hand, power tools or equipment, explosives or other means, they must call 811 at least two, but not more than 14, full business days prior to beginning their excavation. This includes grading, trenching, digging, ditching, drilling, auguring, tunneling, boring, plowing-in, pulling-in, ripping, scraping and cable or pipe installing. The only exception is tilling of the soil, and gardening or agricultural purposes.  
Once an 811 call is made, the notification center will send out notifications to the member-owner/operators informing them of your intended excavation activity near their underground facilities. The member will have 2 full business days to either mark their facilities (within 2 ft. horizontally) or contact the excavator to inform them that they are clear of the intended excavation area.


A Personal Story…
A few years ago, I was dispatched to a business that had two landlines out of service. Upon arrival, I discovered that our customer had driven a T-post into the ground and cut the copper line to his business. The total repair costs were about $600. A call to 811 would have prevented this outage and repair bill and made things easier for all involved.


Please, for your safety and for the safety of others, know what's below. For more information check out these websites: For Wyoming, visit www.onecallofwyoming.com, for Colorado, go to www.colorado811.org, and for the main 811 page go to www.call811.com.
 

Contributed by Al Jaeger: Union Wireless - Operations Technician