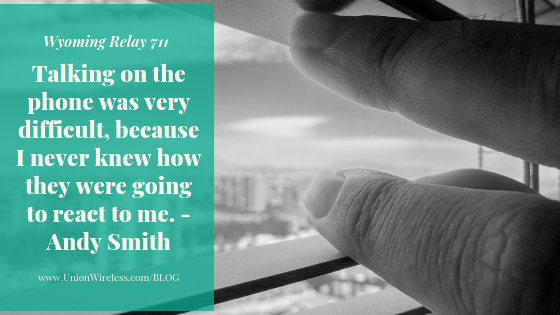 For over 100 years, the telephone has allowed individuals to connect. But only within the last few decades has it been accessible by those living with speech disabilities.
"In 1991, Governor Mike Sullivan and the Wyoming State Legislature created the Wyoming Telecommunications Relay Service known as Wyoming Relay. The service is paid for with money collected by a special fee charged on every telephone service account in the state." Source
Since its implementation, the Wyoming Relay has seen great success and has been a considerable benefactor to those who live with speech disabilities.
The Wyoming Relay offers individuals who are deaf, hard of hearing, deaf-blind and/or have a speech disability to place and receive telephone calls with anyone with access to a phone. It is a free public service for those with access to a teletypewriter (TTY) or similar device to communicate with standard telephone users. The conversation is then communicated between the two parties by a specially trained Communication Assistant. The service is offered in both English and Spanish. Wyoming Relay is open 24 hours a day 365 days per year.


Andy Smith's Experience with Relay
Andy Smith stutters and has since he was two. Speaking on the phone is always harder for him than speaking person-to-person. Since using the Relay program, he has been able to feel more confident when speaking with standard phone users. In his own words, find out how Relay has helped him by clicking here.


Click on the link above to go directly to Wyoming Relay's website to learn more about their offerings and how to apply for services. In addition to standard calls, Relay can also accommodate conference calls, international calls, and voicemail/answering machine retrieval. The direct links below explains some of their services in detail.


Teletype (TTY) works: https://youtu.be/XsGb3vs4ncs
Voice Carryover Service: https://youtu.be/knjpVfgHsIg
Telebraille: https://youtu.be/SKLYB53yawc
Hearing Carry Over (HCO): https://youtu.be/juikefop9x8
Video-Assisted Speech-to-Speech (VA-STS): https://youtu.be/HnY_2a8aLLE
Conference Calls: https://www.wyomingrelay.com/rcc
Wyoming Relay Customer Support
(888) 694-4450 (TTY/VCO/Voice)

(800) 676-4290 (Español - TTY/Voz)

(877) 787-1989 (STS)

accessibility@sprint.com (Email) 

877-877-3291 (Fax)
Wyoming Relay State Administration Office
Chameen Stratton 
Wyoming Relay
Customer Relations Manager
Don't forget to Like and Follow them on Facebook! @WyomingRelay



Contributed by Angelica Mecham