Union Wireless Supports University of Wyoming Students
Friday, May 22, 2015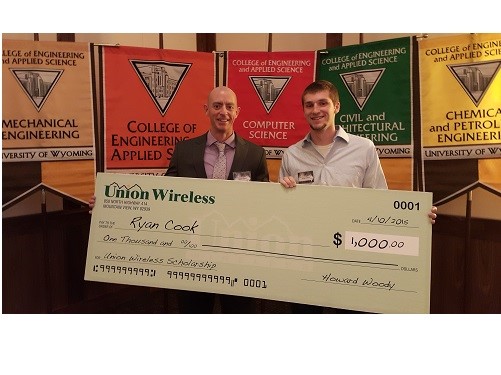 May 22, 2015 - Union Wireless recently renewed their scholarship commitment supporting University of Wyoming undergraduate students within the College of Engineering and Applied Science.
According to Frank Draney, Human Resources Director for Union Wireless, "This marks the 7th year of a 10-year scholarship commitment between Union Wireless and the University of Wyoming. The scholarships support students interested in pursuing an education in a technical field in the Rocky Mountain region. We are proud to support the talented individuals of U.W.'s Engineering and Applied Science Program, in particular those going on to lead in their chosen fields in the communities we serve. In the past, Union Wireless has hired several excellent engineering and computer science students from the University for full-time positions and summer internships."
Craig Russow, Major Gift Officer, University of Wyoming Foundation said, "Scholarship support helps students at all levels. From our promising students faced with financial limitations, to our high-achieving students being recruited by other institutions. Our partnership through scholarship support from Union Wireless empowers bright futures for our engineering and computer science students attending the University of Wyoming. It is these students who go on to have great professional careers and positive impacts on our state and region."
The two recipients of the 2015 Union Wireless scholarship were Ryan Cook, a freshman pursuing a degree in Computer Engineering, and Jacob Kirkland, a junior Computer Science. Both students were honored at the Tau Beta Pi Awards banquet held in Laramie on Friday, April 10th, 2015.
Steven Barrett, Associate Dean of Academic Programs, College of Engineering & Applied Science, stated, "The College has enjoyed a strong relationship with Union Wireless for many years and appreciates their support for our students and scholarships, as well as the engineering and computer science jobs the company provides. In fact, Union Wireless has hired some of our most outstanding graduates in recent years."