Union Wireless Opens New Store in Rawlins
Thursday, October 30, 2014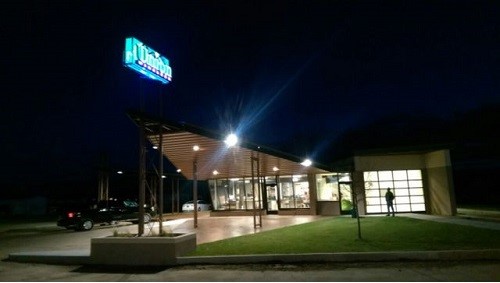 October 30, 2014 - Union Wireless celebrated the grand opening of their new retail store location in Rawlins at 2300 West Spruce Street on Thursday, October 30th. A ribbon cutting by Brian Woody, Chief Customer Relations Officer of Union Wireless, and members of the Carbon County Chamber of Commerce took place at 11:45am.
From 2:00pm to 6:00pm, Union provided a free light dinner and drinks to the public. There were also special deals on phones as well as giveaways and prize drawings, including 2 free Google Chromebook computers.
The new store location is a beautifully renovated historic building that was erected in 1965. The remodeled building features beautiful landscaping, plenty of off-street parking, high efficiency windows, LED lighting, Icynene foam insulation, plus an updated electrical, plumbing and HVAC plant.
According to Brian Woody, "Union Wireless prides itself on investing in the community. The purchase and renovation costs of the project are in excess of $500,000 dollars. The hope is that this project will help rejuvenate a part of Rawlins that has been neglected for a long time and become a catalyst for change in the area."