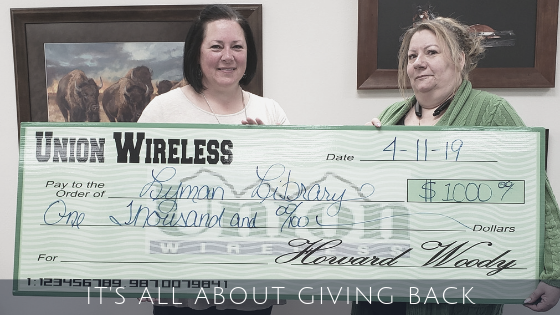 Librarians have a direct impact on standardized test scores. A study done by the School Library Journal concluded that within a five year period, "19 of the 26 states that gained librarians saw an average 2.2 percent rise in their National Assessment of Educational Progress (NAEP) fourth-grade reading scores. Meanwhile, 9 of the 24 states that lost librarians had a 1 percent rise. Why is this important? Because of the proportion of the difference—the increase in scores of states that gained librarians was two times that of states that lost librarians."
Recently, Union donated $1000 to help support a summer reading program headed by Liberty Heaton, the managing librarian at the Lyman Library Branch. She and her two colleagues have created a summer reading program designed to serve the Bridger Valley.
"We have done many new programs that have invited the public to use our facility, which has increased our material checkout by 60%. My staff and I wanted the kids to keep their minds sharp and engaged during the summer. This year's theme is "A Universe of Stories." We will be doing crafts and projects about our universe.
To help motivate our readers, we wanted to give them prizes for reading. So, this is where you are helping. We will have 11 gift baskets to give out, two baskets for each age group, one for a boy and one for a girl. All of us at the Lyman Library, thank you for your donation."



Lyman Library Summer Program Schedule

Follow them on Facebook: Lyman Branch Library