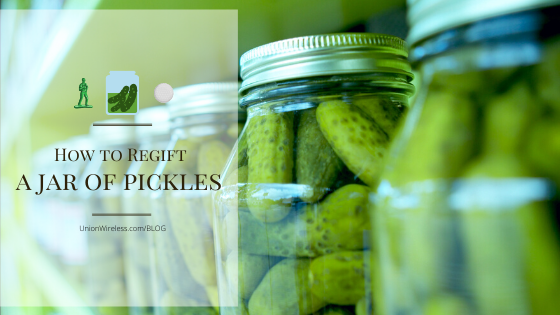 A few years ago, my husband's siblings began a regifting campaign to each other. It involved an opened jar of pickles. For a few Christmases, this jar survived as a gag regift. By the time they finally abandoned the cycle, the large glass jar of pickles included a golf ball, a plastic army man, and a plastic ring. Unless you are in a select circle of family or friends, regifting a jar of pickles is not recommended. But, if you find yourself in a position to regift, here are some sure-fire ways to do it with style.
Only regift new items, but make sure to take off the tag!

Regifting outside of your usual circle of friends is best. This will ensure that you don't regift to the original giver of the regift.

Since you aren't invested in the purchase of the gift, take the time to consider who would most appreciate the item. Then spend the money to rewrap it nicely.

Don't regift gifts you received from significant people. For example, your dear Aunt Linda gave you a rather large and brightly colored handbag. Think of how happy she would be if, next you met with her, you used this bag for the occasion. It is always worth the effort to bring a little bit of joy to someone, especially when the price you pay is so minor.

Be sensitive about the time in which you give the gift. Edible gifts, for example, should be given sooner rather than later. The same goes for technology.
Awesome Regifting Options
Scented Candles

Unopened gift baskets

Board games

Gourmet foods

New household appliances

Unused and current gift cards

Gag or novelty gifts

New-with-tags clothing
Avoid These
Old technology

Anything opened

Handmade or personalized (monogrammed or engraved) items
Final Note: Is it Ok to Regift?
According to Emily Post, the answer is no. However, Post does approve of the following situations:
"1. Your sister's coffeemaker just stopped working, and her birthday is days away. You, who are on a budget, have been given an extra coffeemaker. Instead of stashing the extra coffeemaker in your closet, you wrap it in its original box and present it to her. She's delighted."
"2. You've been given two copies of the same book. Your best friend, with whom you exchange Christmas gifts each year, is a fan of the author. You decide to give her the book—not as a holiday gift, but as a surprise: "Ellie, I received two copies of this book and want you to have one." An "unofficial" gift of this sort is not wrapped."


Ultimately, you will have to decide if it is appropriate or not to regift a gift. If you are in doubt, don't do it. As a final alternative, donate the gift to your favorite charity. Keep in mind that the greatest risks in regifting are hurt feelings, damaged friendships, or a jar of soused pickles.

Contributed by Angélica Mecham