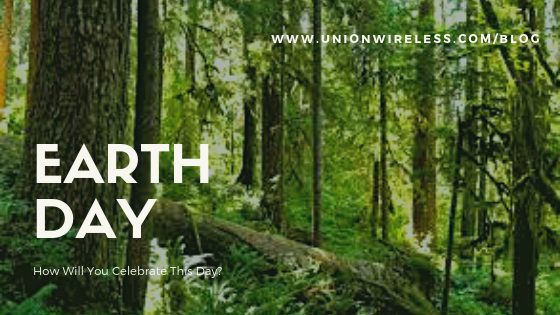 Earth Day is Monday, April 22nd. It is a day for everyone to remember their responsibility in tending and protecting the environment. Earth Day is not a holiday, but it is recognized and celebrated globally. Since its official inception in 1970 by Senator Gaylord Nelson, supporters have engaged themselves and their communities in many ways.
Various green campaigns have popped up around the globe. A unique one is called One Square Inch of Silence, which was founded on Earth Day in 2005. Its specific purpose is to protect the natural soundscape in Olympic Park's backcountry wilderness:
The logic is simple; if a loud noise, such as the passing of an aircraft, can impact many square miles, then a natural place, if maintained in a 100% noise-free condition, will also impact many square miles around it. It is predicted that protecting a single square inch of land from noise pollution will benefit large areas of the park.
Located in the Hoh Rain Forest at Olympic National Park in Washington, the One Square Inch of Silence is over 3 miles from the park's visitor center. The two-hour hike to the exact location is marked by a small red-colored stone placed on top of a moss-covered log at  N 48.12885°, W 123.68234°. The hope is that the simplicity of this method of soundscape management will be cloned in other national parks. Go to http://onesquareinch.org/about/ to find out more.
Being green, however, is not just for our national parks. Responsible recycling, picking up trash as you see it and disposing of it properly, planting trees and gardens, and taking time to be outdoors are only a few of the ways you can take care of and enjoy the environment.
Here at Union, we implement many of the above. We have offered paperless billing for over 10 years. Solar power is employed on a number of remote cell phone towers. In 2012, Union completely renovated their operator's center, qualifying it as a green building.
Union also advocates for customers and non-customers to recycle their old phones, "We offer the cell phone recycling program that also benefits soldiers.  The money that is received from the devices gets applied to calling cards that soldiers can use to call home," stated Tina Dellinger, a Regional Manager at Union. "We have boxes at each store location." Union has and always will be committed to protecting the environment. After all, this is where we live, work, and play, too.
Earth Day is the day we all remember to do a little more than what we have done before. Happy Earth Day!



Contributed by Angelica Mecham