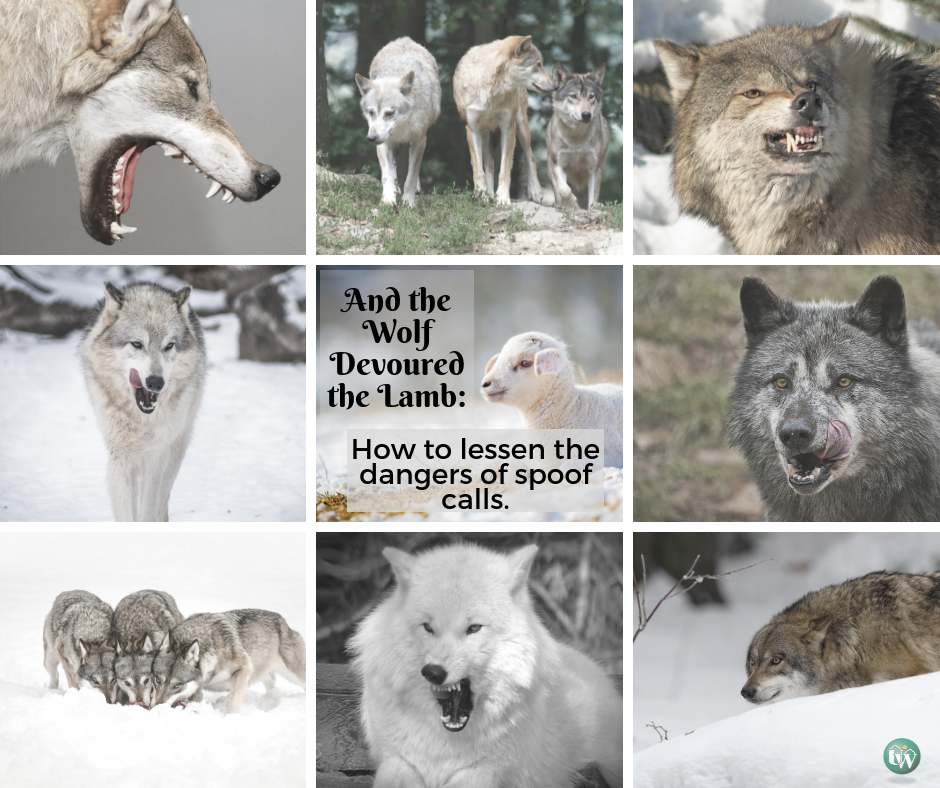 "This is your last chance. We have been trying to get a hold of you. Stay on the line to find out how you can avoid the cancellation of your credit card."
Ever have that phone call? The one that causes a momentary surge of panic as you mentally go through all the bills you paid that month.
"I have auto-pay on my credit card. How in the world am I late?"
Then it dawns on you. This is a robocall. A spoof. A royal pain in the keister. But how did you fall for it?  The number was local! Welcome to the new world of Neighbor Spoofing―the latest tactic in the con man's tricks to get you to pick up the phone and give them the chance to scam you.
So, what can we do? How can we, the innocent lambs, avoid the voracious hunger of these cunning wolves? Sadly, very little. That said, here are a few options to help you lessen the dangers:


Option 1: National Do Not Call Registry
This isn't an option. You will want to go to www.DoNotCall.gov to add yourself to their list. Once you are added, you will always be on the list― it never lapses or expires. Unfortunately, it covers only sales calls. If you have signed up with charities, political groups, surveys or are targeted by debt collectors, you will still get calls from them. Note: Those enticing sweepstakes that have you enter your name in to win a new car or four-wheeler love it when you give them your personal information. Stop giving it to them. A lot of these companies will sell your information to the highest bidder.


Option 2: Block Individual Numbers
This option may not be very realistic. A person can receive numerous calls a day from unknown numbers. To sit there and block each one is a time waster. However, do so if there is a specific number that keeps harassing you, i.e…ex-significant others, in-laws, etc.


Option 3: Buy a phone from Samsung (www.Samsung.com) or Google (store.google.com)
Select models from these companies can automatically flag suspected spoofing. Samsung's program is called Smart Call. Google Pixel and Pixel 2 will turn the entire screen red to warn you not to answer. But they are not foolproof, some calls will still get through.


Option 4: Third-Party Apps
Yes, there is an app for that! Nomorobo, RoboKiller, Hiya, and others were created to stop the call before it even gets to your phone. Reviews are available for each, which will help you find your favorite. Monthly or annual fees may apply.


Option 5: Turn the Tables
Okay, so this option is for the middle school trickster in you, the one banished to the mental corner of your adulthood. Answer the call and then do one of two things: Don't say anything. Just let the call ride. Why? Well, the longer they are on the line, the more money they will have to spend. Remember that adage? Time is money. Make them spend it on you. The second is like the first; only this time place your phone to a speaker playing loud music. Kinda like what they do to you! Elevator music anyone? (The grown up, though, should just hang up or not answer the call at all.)


Option 6: Nuke'em
This last one is all-encompassing. It is an almost guarantee that you will not receive spoofing calls. Use the Do Not Disturb feature to only allow calls from your contact list. You will want to make sure all your important numbers are present, not just family and friends, like your bank, schools, and other business contacts.


Contributed by Angelica Mecham